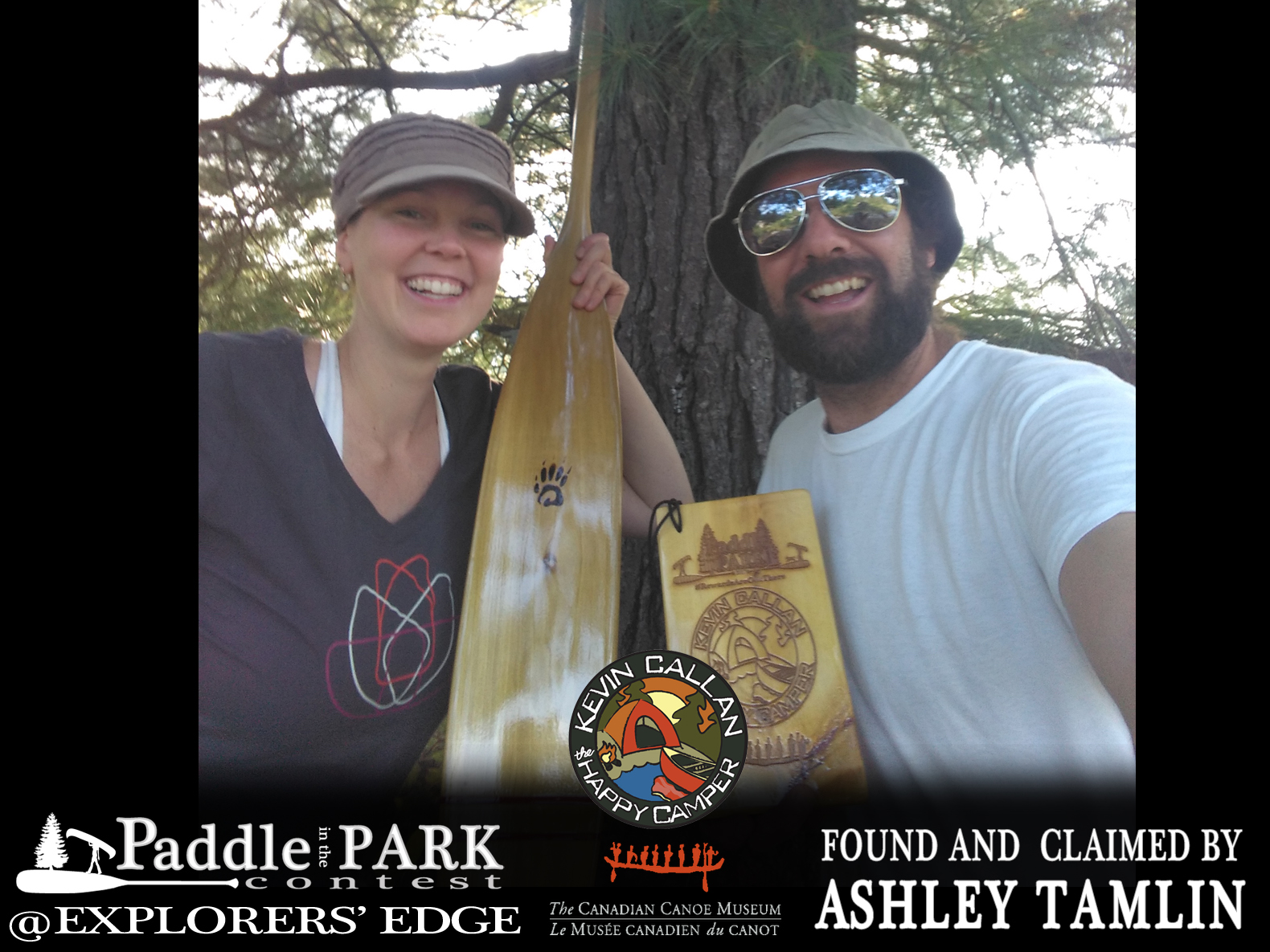 08 Sep

Happy Camper/CCM Paddle Found & Claimed by Ashley Tamlin

Paddles up and a big congratulations to Ashley (and Matt and ???) Tamlin for finding and claiming the Happy Camper/Canadian Canoe Museum paddle! Technically the official claim goes to Ashley but seeing she had a couple of pretty important people along with her, we thought we'd better mention them too. 😉 Read Ashley's story of how and where she and her crew found the Happy Camper/CCM paddle below.

It all began in 2015 when we caught wind of the PITPC. The summer of 2014 we had purchased a Nova Craft Cronje canoe from Wild Rock Outfitters in Peterborough and along with that had bought two beautiful Badger cherry, oiled paddles. The summer of 2015 I had seen an advertisement on the Badger paddle website for the PITPC. We ventured to the website and we were hooked. We narrowly missed the 2015 Happy Camper Paddle and had traversed the majority of the park looking for it! The summer of 2016 we did not follow the contest as closely and had lost a bit of the paddle hunting fever. However, we redeemed ourselves this year by finding the Happy Camper Paddle.
Do you see what they see?
I was driving to work one Sunday morning listening to CBC Fresh Air and had heard that Kevin Callan would be speaking. Unfortunately, I was not able to listen to the interview, but I did check out their Facebook page. We also decided to check the PITPC clues to see what news was posted for the paddle seekers. In doing this we had seen that there were clues for the Happy Camper Paddle. The first clue did not provide us with much direction. However, in the second clue we saw the overlay of the lakes on the beaver. From the video posted on CBC's Facebook page we were able to determine the rough area where the paddle was hidden. We also used Kevin Callan's Top 50 Canoe Routes book as a resource. In using these two items, Matt determined that the paddle was likely hidden on the Island Lake Route.
So, we made a last-minute decision to venture north. We arrived at Wahwashkesh Lake at 3 pm and headed on our way. We hit Farm Creek in no time and meandered our way through the landscape. It was about an hour and a half of paddling upstream before we hit the infamous beaver dam. There was a beautiful white pine at this portage, but neither of us thought to check it. We lifted over the rock adjacent to the beaver dam and were on our way. I decided to glance back and take another look at the pine as it was all on its own. I saw something that looked out of place and said to Matt, "I think that's the paddle!". We almost missed it! It was a stealthy hide as there was only a small window of paddling the creek where it could be seen. All of us were super excited – Matt, myself, our little paddle buddy (I am six months pregnant) and our two dogs.
We continued to paddle into Island Lake as we had intended to spend one night out in the bush. Island Lake was gorgeous and we couldn't have asked for a better night. The next morning, we hiked up Tower Hill near our campsite – at this point we should have quit while we were ahead and had a nice leisurely paddle out. Instead, we decided to paddle the rest of the route outlined in Kevin Callan's Island Lake route. The majority of the portages were overgrown and difficult to navigate. What should have taken us 3-4 hours to paddle and portage, took us 6! We made it out though and got off of Wahwashkesh just in time for the rain to start. All in all, it was a great trip with the paddle find as the highlight!
Thank you to Badger paddles and their affiliated sponsors for organizing this awesome contest. Also, thank you to Kevin and Preston for taking the time to hide the paddle that encouraged us to see a route that we likely would not have thought of if it weren't for the paddle. This was the best scavenger hunt we could have asked for!
Submitted by Ashley Tamlin (via email)
Thanks to Ashley (and Matt and ???) for sharing their fun and inspiring paddle seeking and finding adventure with us (and for cracking the very first clue to ever feature #BeaverEyeTechnology)!! 🙂  Seeing the paddle they found was only a short 51″ in length, Ashley mentioned that they would probably save this special paddle for their "little paddle buddy" and we think that's very fitting considering that technically he or she was also there when Mom (and Dad) found it! 🙂 As of this writing, there are still two more paddles to be found and claimed plus even more rewards waiting for you in nature. So what are you waiting for? Go on… get "Out There"! (But just before you do, check out everything that Ashley won below.)
THE HAPPY CAMPER/CANADIAN CANOE MUSEUM PADDLE
| | | |
| --- | --- | --- |
| Badger | Hidden Badger Paddle | $ 245.00 |
| Happy Camper | Kelty Kettle | $ 125.00 |
| Happy Camper | Kevin Callan Book | $ 20.00 |
| Rapid Media | 1 YR PADDLING Magazine Print/Digital Subscription | $ 20.00 |
| SSR | Canine Friendly Pocket Pet First Aid Kit – See Sawyer Run | $ 12.00 |
| SSR | Canine Friendly Safety Light – See Sawyer Run | $ 19.50 |
| Complete Paddler | Level Six Yoke Pad | $ 19.00 |
| Portageur.ca | Portageur.ca Decal | $8.00 |
| TOTAL |  HAPPY CAMPER/CCM PADDLE PRIZE PACK |  $468.50 |